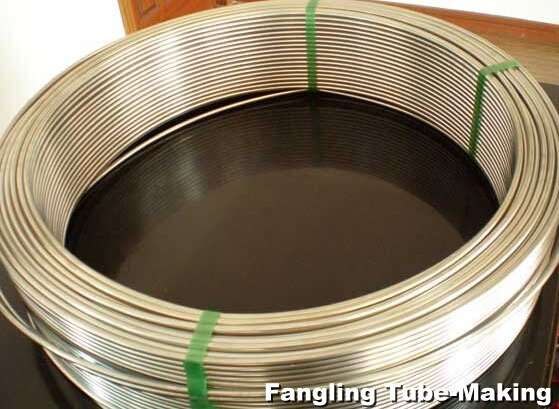 Introduction
Feature:
1. Production standards: ASTM A269/A249, enterprise standard
2. Commonly used stainless steel material TP304, TP316
Other options for the material 304L, 316L, 201,202,310S, 321
3. Main application and field of use: refrigeration equipment, evaporator, gas liquid delivery, condenser, beverage machine.
4. General delivery pipe status: half hard / soft bright annealing
5. Specifications range: diameter 6mm-19mm
6. The tolerance range: diameter: + 0.1mm, wall thickness: + 10%, length: -0/+6mm
7. Annual output: 600 tons
Description: Fang Ling tube-making production of stainless steel coil has ten years of history, has two production lines can produce continuous welded pipe, equipment is perfect, the technology leader. But the company introduced the world first-class bright annealing technology, can online stainless steel pipe softening treatment. In addition, we also have compressed, flaring, bending test, hardness 100%, stretch, air tightness test and so on, the price is reasonable, quality is reliable, the current US 80% coil export to all over the world.
O.D (mm)

W.T (mm)

3.0-4.0

4.01-6.00

6.01-8.00

8.01-10.0

10.01-12.7

12.71-19.05

19.05-25.4

0.30-0.40

√

√

√

0.41-0.50

√

√

√

√

0.51-0.60

√

√

√

√

√

0.61-0.70

√

√

√

√

√

√

0.71-1.00

√

√

√

√

√

√

√

1.01-1.20

√

√

√

√

√

√

1.21-1.50

√

√

√

√

1.51-2.0

√

√

√
Welding technology of stainless steel coil parameters:
1 Size range: diameter 3MM-25.4MM
2 Wall thicknesses: 0.3MM-2.0MM
3 Coil inner hole size: 500MM-1500MM (can be adjusted according to customer requirements)
4 Coil height: 200MM-400MM (can be adjusted according to customer requirements)
5 The maximum length of coil tube: 3MM*1MM, up to 3000 meters; 8MM*0.5MM,up to 2000 meters; 9.53MM*0.89MM, up to 1000 meters
6 General delivery length: 200 m -1000 M
The physical properties of steel bright annealing state:
1 Extension rate: >55%
2. Surface hardness: <170 HV
3. Tensile strength: >550 N/MM2
4. Yield strength: >195 N/NM2
5 Bending angle: >90 degrees, the bending radius of > 2* outer diameter
6. Pressure performance: in the case of 8*0.5*C, the working pressure shall benot less than 60BAR
More Products